Isolating fresh air respirator - DUCT A ECO Spasciani
With full facemask and electric fan
Duct a eco is an siolating fresh air respirator, the respiration is facilitated by an electric fan.
It includes :

- fan
- full facemask
- harness
- 10m hose
- plastic storage box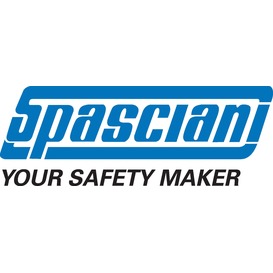 Designed to be used in confined spaces such as tanks, silo, wells, sewer systems, etc., restricted spaces where the air ventilation can suddenly change modifying the concentration of the toxics present in the atmosphere. Ares where it is possible to take uncontamined air from the surrounding environment without adduction of compressed air.
It can be used by two operators simultaneously : in this case, provide a second operator kit (hose, harness and full face mask)
The operator breathes air coming from outside the polluted area through a corrugated hose.
DUCT A ECO is a device of extremely simple use, easy and intuitive, ideal for unskilled workers and requires a basic training only.
The hose, in position over the shoulders, grants easy movements. Its reduced weight and the case with handles make the set easily transportable. It requires low level of maintenance operations.
Technical descriptions :
DUCT A ECO is composed by a supporting harness with adjustable waist-belt and shoulder-belt provided with velcro clasp to fix the breathing hose on shoulders allowing the operator to easily move in narrow spaces.
The manifold, placed at the waist-belt, joins the breathing hose and the feeding hose. The manifold comes complete with a overflow valve.