pH meter with a bluetooth smart pH electrode Hanna Instruments
HI2202-03 EDGE BLU
Free yourself from wires when performing pH measurements. Hanna Instruments is proud to introduce edge blu, a pH meter that uses HALO ph electrodes with bluetooth Smart technology that connects wirelessly to edge blu or compatible iPad or Iphone. Bluetooth Smart technology is energy efficient, allowing for low power consumption to maximize the battery life of the replaceable battery used in the pH electrode.
A hybrid meter that can be used in portable, wall-mount, and bench-top configurations.
HI2202 Edge blu includes: HI11102 Halo pH electrode with bluetooth smart technology, pH 4 buffer solution sachets (4), pH 7 buffer solution sachets (2), electrode cleaning solution sachets (2), battery for halo, benchtop docking station with electrode holder, wall-mount cradle, USB cable, 5 VDC, power adapter, quality certificates and instruction manual.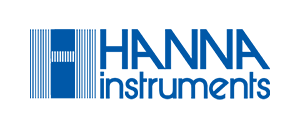 2 USB ports
Data logging
GLP
CAL Check
Bluetooth smart technology
Auto detection: At a push of the button, the halo pH electrode enters discovery mode and will be detected by edge blu.
Capacitive touch keypad
Easy to read LCD
Zero footprint
Resolution selectable from 0.01 and 0.001 pH
Range -2.000 to 16.000 pH
Acuracy +/ - 0.002 pH for 0.001 pH resolution
Temperature readout (°C or °F)
Automatic temperature compensation
Calibration tag on screen