Roof fastening kit for nergal steel sheet on thin metal structure. Feno
25 pieces Blister
Fastening kits for agricultural building: nergal steel sheet.
25 self drilling screws + 25 saddle washer + 25 EPDM washer. Avaible coloured (RAL 8012 or 5008) for thin metal structure 1,5 to 5mm max.
The RAL color presentation on this page are not contractual, the printed presentation or on your screen can vary slightly.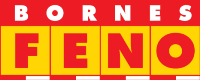 For steel sheet nergal 1000.
For thin metal structure 1,5 to 5 mm max..
Approved by French specification "DTU".
Screws head in aluminum protected against rust.
12 Kestermich cycle extra coating to protect body of the screw..
Blister contains installation socket.
Other colours or size on demand.
Also available in plastic bags of 100 pieces.