Roofing fastening kit for corrugated steel sheet on wood beams Feno
25 pieces Blister
Roofing fastening kit for agricultural building covered with corrugated steel sheet on wood beams.
25 hot dip galvanised wood screws + 25 galvanised steel saddles + 25 waterproof washers.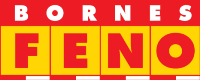 Corrugated steel sheet 76 x 18.
On wood beam.
Comply with French specification "DTU".
Protected against corrosion.
Hot dip galvanised.
Available plastique bags of 100 pieces.