Escape breathing apparatus SK1203 Spasciani
Autonomy 15 minutes
SK1203 is an open-circuit escape breathing apparatus incorporating a bonnet and is used for self-rescue in all environments where hazardous situations may occur due to fire smoke or lack of oxygen.
SK1203 is extremely easy to use and does not require special training to operate, the airflow is automatically activated when the bonnet is removed from the bag and it provides the operator with a constant flow of breathable air for 15 minutes.
SK1203 is designed to provide the user with a constant flow of air to escape the hazardous environment, at the end of the air supply a special valve opens and allows the user to breathe the ambient air which at that time must be free of contaminants.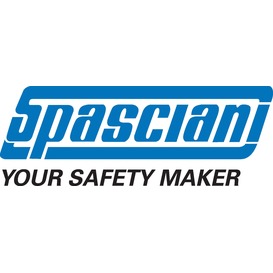 SK1203 consists of a cylinder, a pressure regulator/valve, a breathing air hose, a bonnet and a carrying bag.
The 2 litre 300 bar cylinder is directly connected to the valve/pressure reducer which is supplied with a charge indicator that continuously shows the pressure inside the cylinder.
The breathing air hose that feeds the bonnet is connected to the valve/pressure regulator and is positioned inside the bag so that the flow is activated when the bonnet is removed from the bag.
The bonnet has a very wide visibility screen, a collar that ensures a perfect seal, a half-mask for dead space reduction and a valve that opens to ambient air when the air supply is complete.
The bag has a transparent window that allows the gauge to be checked from the outside and with closure seals that allow easy detection if the device has been used or tampered with. 
Technical data :
Valve / pressure regulator: supplied with gauge for continuous reading of cylinder charge
Cylinder volume / pressure in use: 2 l / 300 bar
Air reserve: 550 N litres
Flow rate: approx. 35l/min
Autonomy: more than 15 minutes
Weight: approx. 6 kg (with loaded cylinder)